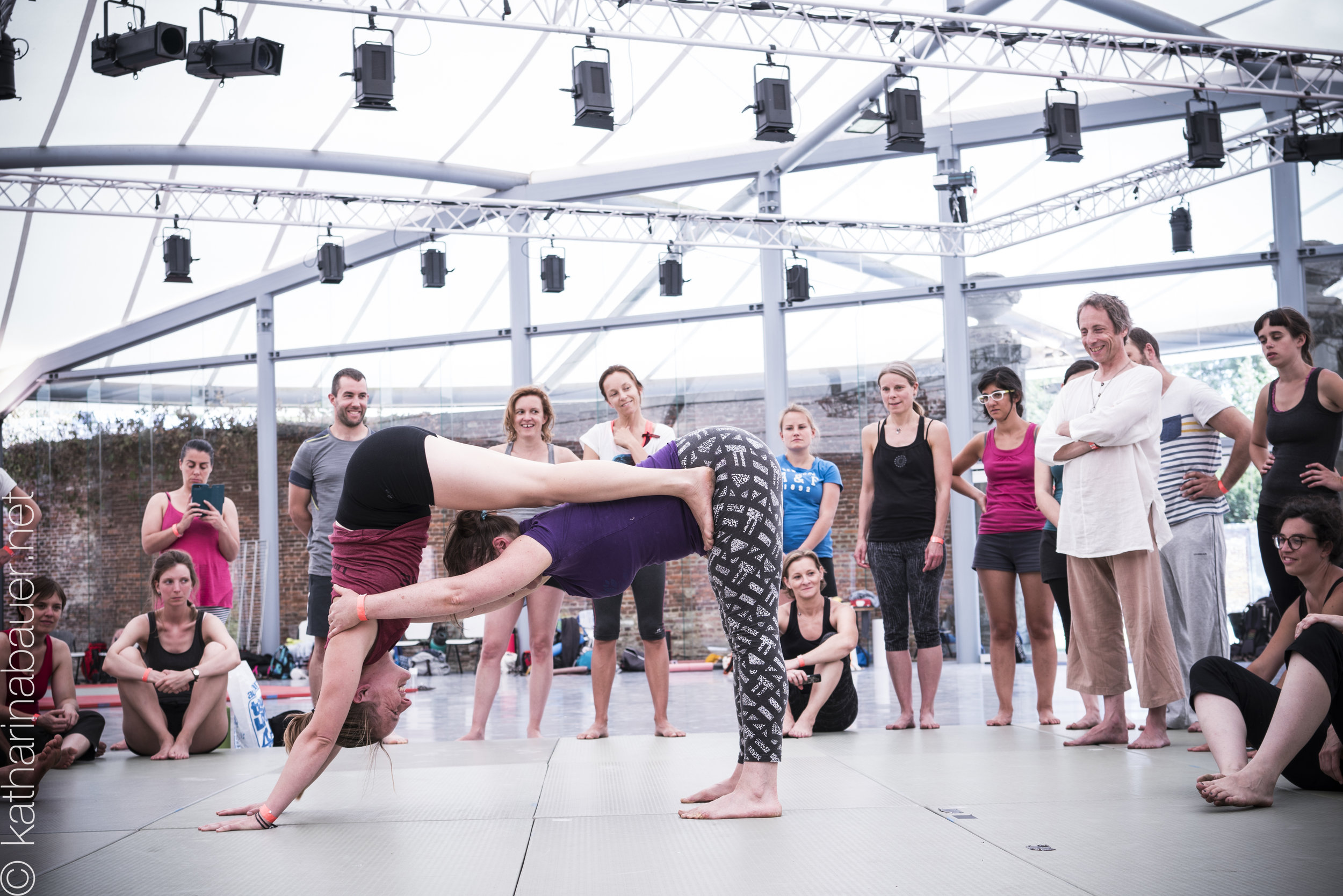 LEVELS
The festival is for Acroyogis and practitioners who have been practicing for at least 6 months.
We recommend that you take at least 10-15 AcroYoga classes before attending the festival.
There will NOT be any workshops for absolute beginners.
LEVEL/EXPERIENCE IN L-BASING ACROYOGA
We will have different levels of acroyoga workshops:
> LEVEL 1: You are a beginner but you have already tried acroyoga (some classes and experience)
> LEVEL 2: You can do: The AcroYoga Sun Salutation (Bird – Throne – Chair – High Flying Whale – Handstand out), Cartwheel, Star (hold 20 sec), Shoulderstand (hold 20 sec), Tuck Sit (5 sec). You can easily hold these poses and transition between them.
> LEVEL 3: You manage a variety of poses and transitions. You can do the washing machines: side star, ninja star, four steps, Catherine's wheel, free star (hold 30 sec), low foot to hand (hold 10 sec), reverse star and a free shoulderstand (hold 30 sec)…
> LEVEL 4: You are comfortable and stable in holding challenging poses as an extended foot to hand, hand to hand, foot to foot, mono limb, pops…
> LEVEL 5: You are comfortable with dynamic transitions as whips, Icarian, no hands, flows including HtoH or other challenging moves…
LEVEL /EXPERIENCE IN STANDING ACRO
We will also have workshops for standing acrobatics.
We will also have workshops for standing acrobatics.
> Level 1: You have never tried or just a few times standing acrobatics.
> Level 2: You can do 2 high and flag. You are working on: foot to hand, high bird.
> Level 3: You can do: foot to hand, high bird. You are working on high side star and hand to hand (spotter helping with the entrance is fine)
> Level 4: You can do several entrances to hand to hand, foot to hand and you are working on more advanced variations as pitching, inlocate, long arms holdings, one arm balancing