This year we propose two very different post-festival workshops. You can stay for an intensive standing acrobatics workshop with Wybren, or for a workshop in WUO TAI massage with Zo Oé.
ACROBATICS WITH WYBREN – 1 DAY INTENSIVE TRAINING
Wybren – Netherlands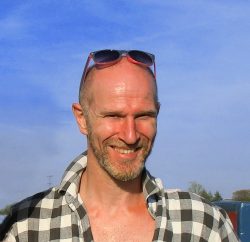 Wybren – Netherlands
Wybren – `the serious skill supervisor´ – Wouda
Wybren is one of the best known teachers in Europe, currently teaching in the Netherlands at Codarts Circus Arts School in Rotterdam. He has been involved in Sports- and Circus Acrobatics alike since he was a child, and has become world-renown for analyzing dynamic skills, his demanding drills and attention to minute detail. He has the ability to break down the most complex tricks and instruct students step-by-step in the pre-exercises that lead up to it.
Has a profound knowledge of duo and trio acrobatics, both static and dynamic as well as icarian, handstand and floor acrobatics.
The rumor goes he sometimes even gives compliments …
DATE:
24 June 2019
LEVEL:
Only intermediate/advanced.
MINUMUM PRE-REQUISITES:
Standing H2H – 10 sec – without walking. (MEANING YOU SHOULD BE SOLID AND NOT NEED A SPOTTER):
Please come with a partner with whom you can do the prerequisites.
LOCATION:
Same as the festival – Parc d'Enghien, Avenue Elisabeth, 7850 Enghien.
PRICE:
1 ticket, food included = 70€
SCHEDULE:
1 day – 6 hours 10.00-13.00 & 14.30-17.30
You can find the facebook event for the post-festival workshop with WYBREN here.

POST-FESTIVAL WORKSHOP DE WÙO TAÏ – 2 DAYS
This year we organize a post-festival workshop: WUO TAÏ, massage and therapeutic approach with ZO OÉ.
1 day of WÙO TAÏ to calm the body and mind down, after intense training at the festival.
It's now the moment to create space between every cell of our body, to give and receive softness, and dance with every single part of « us ».
WHAT IS WÙO TAÏ?
« Wùo » means between, « Wu » means the circle and « Ou » means the pair or the double.
« Taï » means big like the outside, the space that there is around.
So Wùo Taï can be translated like « Between two circles »and/or « Between the Universe »…
This practice is inspired by dance, by the universal movement that lives within us and around us, and osteopathy, by the technique. It's also the reason why we call this practice « Oste-Dance ».
« She creates and evolves thanks to the soft mix of elliptical movement we create together on the ground, of feeling, of precise manipulation techniques, of letting go and listening. Between yesterday's gestures and today's, between Earth and Sky, between us and the other. Wùo Taï brings balance and the magic to receive what we give and give what we receive.
It's a practice that we create in pairs, in which we learn how to give, receive, listen and listen to ourselves to share an invisible dance and (e)motion… »
For more information on this practice, all info is on this website: www.wuotai.com
LEVEL
All levels
PREREQUISITES
No prerequisites
TEACHER
Zo Oé – Canada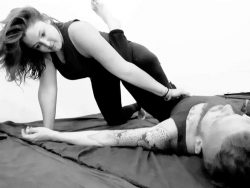 Zo Oé – Canada
A travelling acroyogi, who has started her journey in Quebec, Canada, and has continued throughout the world, training and certifying in different fields. She slowly brought the art of healing, in her practice as it made sense that it was part of her. She took intensive trainings to certify in Yoga, Acroyoga, Thaï Yoga Massage and then she quickly discovered Wùo Taï, which has set her second passion going. Acroyoga and Wùo Taï are her two main occupations and since she has discovered them, she travels for and thanks to them. Those two practices which create balance between Yin and Yang in the body and mind, have helped her find a dance between movement and stillness.
DATES
24 June 2019
SCHEDULE
1 day: 10.00-13.00 & 14.30-17.30
LOCATION
Same as the festival – Parc d'Enghien, Avenue Elisabeth, 7850 Enghien.
SPOTS
Limited to 30 persons.
TICKET
PRICE: 1 ticket, food included = 70€
You can find the ticket for the post-festival workshop here.
You can find the facebook event for the post-festival workshop with Zo Oé here.