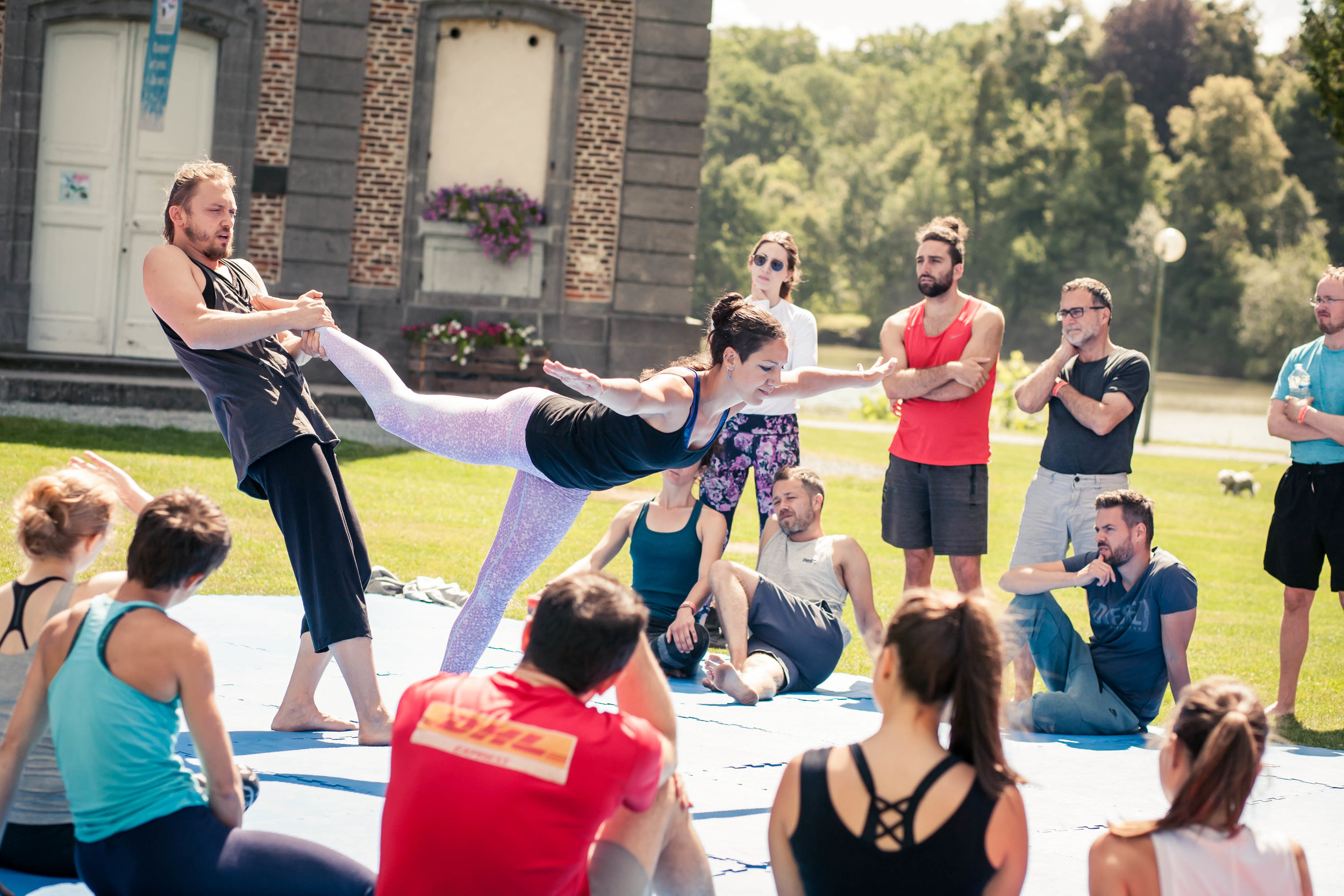 TEACHERS AT THE FESTIVAL 2019:
MELANIE LADYBASE & APRIL SNOW (CA)
WYBREN (NL)
Jessalyn Leean Oxford & Glenn Acro Saunders /Fly Acrobatics (US)
Verena Pietzner & Christoph Reimann/Duo Atado(DE)
Saar Wouters & Ruslan North/Acrocontactyoga (BE)
Mireia Castellsagué & Edu Juanet Pucurull (ES)
Lucas Nunes Barbosa & Maria Escudero Ortiz/Acroyogathai (ES)
Zoé & Joanie/Ladiez machine (FR/CA)
Christina Markouli (GR/BE)
Celine Libeer (BE)
Peter Hunter (DK)
Daniel Marty (CH)
Pri & Maria Solagran/ Acrogravity
(ES)
Tatjana t'Felt (DK) & Marie Marécaux (FR)
Andreas Jakubik (DE)
Susanne Fabel (DE)
Gianni Zoccheddu (FR)
Gregory Thirion (BE)
Veronica Cruz (BE)
Sytske Riphagen & Karel Salet (NL)
Ellen Lecompte (BE) & Killian De Volder (NL)
Fedde Peutz & Mabelle Hamerling (NL)
Hugo Hansen (NL)
Paulina Bizzotto Molina (NL)
Trevor & Clive Hooton (CA)
Kasper Moritz (DK) & Marie-Therese Pallis (AT)
Aurelie Couderc &  Hamza Andaloussi (CH)
Melanie Monteiro & Jarno Vanthuyne (BE)
Steven Heyse & Ruth Asphyxia ( BE)
Jørn Christensen (DK)
Robert Schmidt (DE)      
Joelle Herling (LU)
Aline Losca (CH)
Family Acroyoga teachers:
Ilse Grieten (BE) – Valérie Verhulst (BE)– Virginie Denoz (BE)- Laurie Simoen- Liesbet Marivoet (BE)- Valérie Paquet (BE)- Charlotte De Jaegher (BE)
Teaching at the festival:
The teacher ticket is 190 euros, and each time you teach a workshop or a warm up, you get a reduction of 50 euros.
If you like to teach at the festival this year, please register in January and sign up for a teacher ticket. and then we will get back to you.
You are also welcome to contact us by mail to: Teachers.acroyogasummerfestival@gmail.com