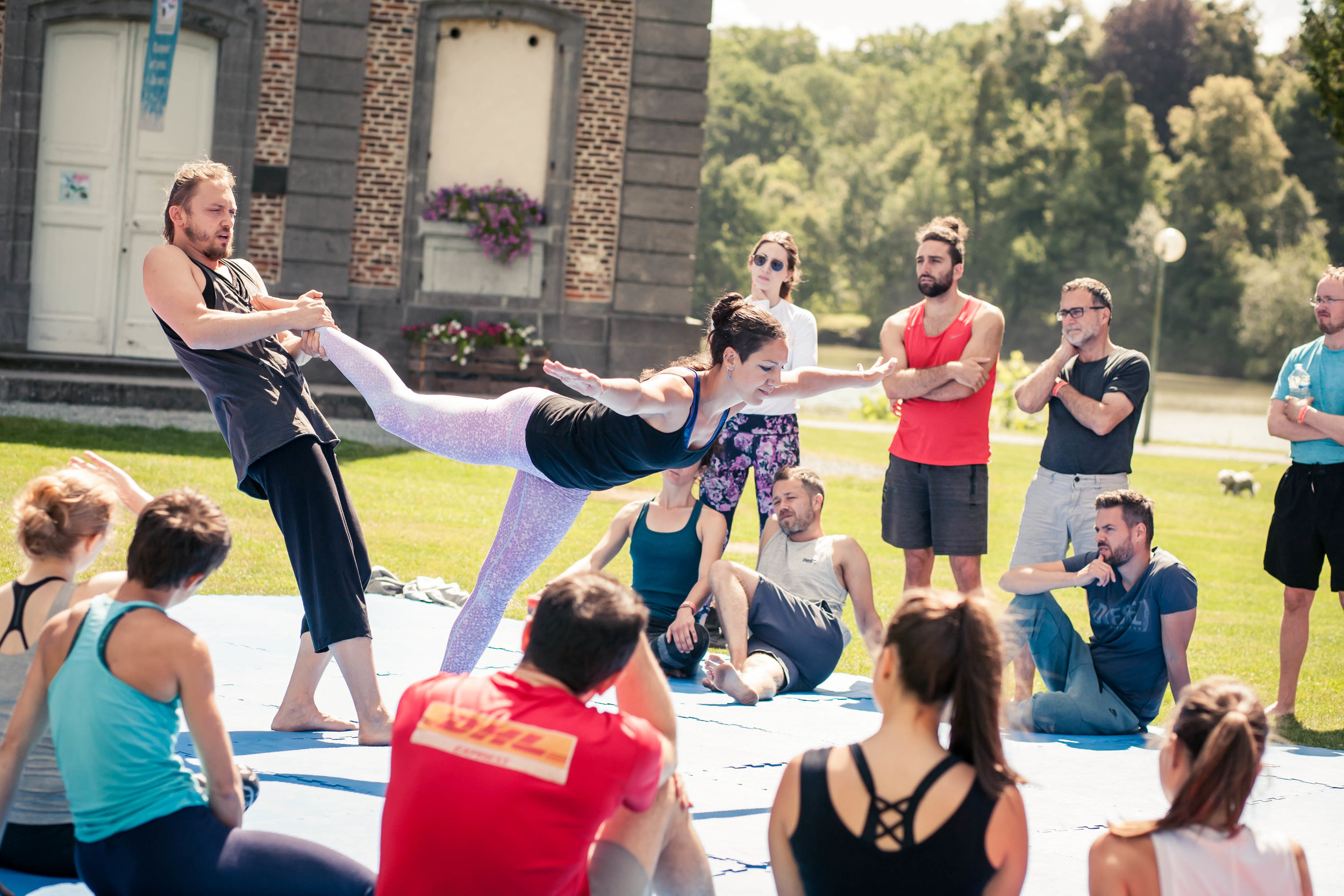 TEACHERS AT THE FESTIVAL 2020:
Debbie Collis & Jacob Brown (Acro Revolution, Oregon, USA)
Pau Castellsague (Spain)
Wybren & Trudi (NL)
Luigi Mercurio & Fra Flow (IT)
Veronica Cruz & Paulo Carolo (BE)
Christina Markouli (GR/BE)
Celine Libeer (BE)
Ellen Lecompte & Killian De Volder (BE)
Joanie Grenier & Gianni Zoccheddu (CA/FR)
Sytske Riphagen & Trevor Baxter (NL)
Daniel Marty (CH)
Masa Nobilo & Sasha Dublin (LX)
Lennert & Yvonne (NL)
Family Acroyoga teachers:
Ilse Grieten (BE), Laurie Simoen (BE)
…..more teachers will be confirmed soon. There will be standing acrobatics, acroyoga, yoga and massage. You can expect around 40 teachers.
Teaching at the festival:
The teacher ticket is 200 euros, and each time you teach a workshop or a warm-up, you get a reduction of 50 euros.
If you like to teach at the festival this year, please register in January and sign up for a teacher ticket. and then we will get back to you.
You are also welcome to contact us by mail to: Teachers.acroyogasummerfestival@gmail.com
TEACHERS AT THE FESTIVAL 2019:
MELANIE LADYBASE & APRIL SNOW (CA)
WYBREN (NL)
Jessalyn Leean Oxford & Glenn Acro Saunders /Fly Acrobatics (US)
Verena Pietzner & Christoph Reimann/Duo Atado(DE)
Saar Wouters & Ruslan North/Acrocontactyoga (BE)
Mireia Castellsagué & Edu Juanet Pucurull (ES)
Lucas Nunes Barbosa & Maria Escudero Ortiz/Acroyogathai (ES)
Zoé & Joanie/Ladiez machine (FR/CA)
Christina Markouli (GR/BE)
Celine Libeer (BE)
Peter Hunter (DK)
Daniel Marty (CH)
Pri & Maria Solagran/ Acrogravity (ES)
Tatjana t'Felt (DK) & Marie Marécaux (FR)
Andreas Jakubik (DE)
Susanne Fabel (DE)
Gianni Zoccheddu (FR)
Gregory Thirion (BE)
Veronica Cruz (BE)
Sytske Riphagen & Karel Salet (NL)
Ellen Lecompte (BE) & Killian De Volder (NL)
Fedde Peutz & Mabelle Hamerling (NL)
Hugo Hansen (NL)
Trevor & Clive Hooton (CA)
Kasper Moritz (DK) & Marie-Therese Pallis (AT)
Aurelie Couderc &  Hamza Andaloussi (CH)
Steven Heyse & Ruth Asphyxia ( BE)
Jørn Christensen (DK)
Robert Schmidt (DE)      
Joelle Herling (LU)
Aline Losca (CH)
Family Acroyoga teachers:
Ilse Grieten (BE) – Valérie Verhulst (BE)– Virginie Denoz (BE)- Laurie Simoen- Liesbet Marivoet (BE)- Valérie Paquet (BE)- Charlotte De Jaegher (BE)