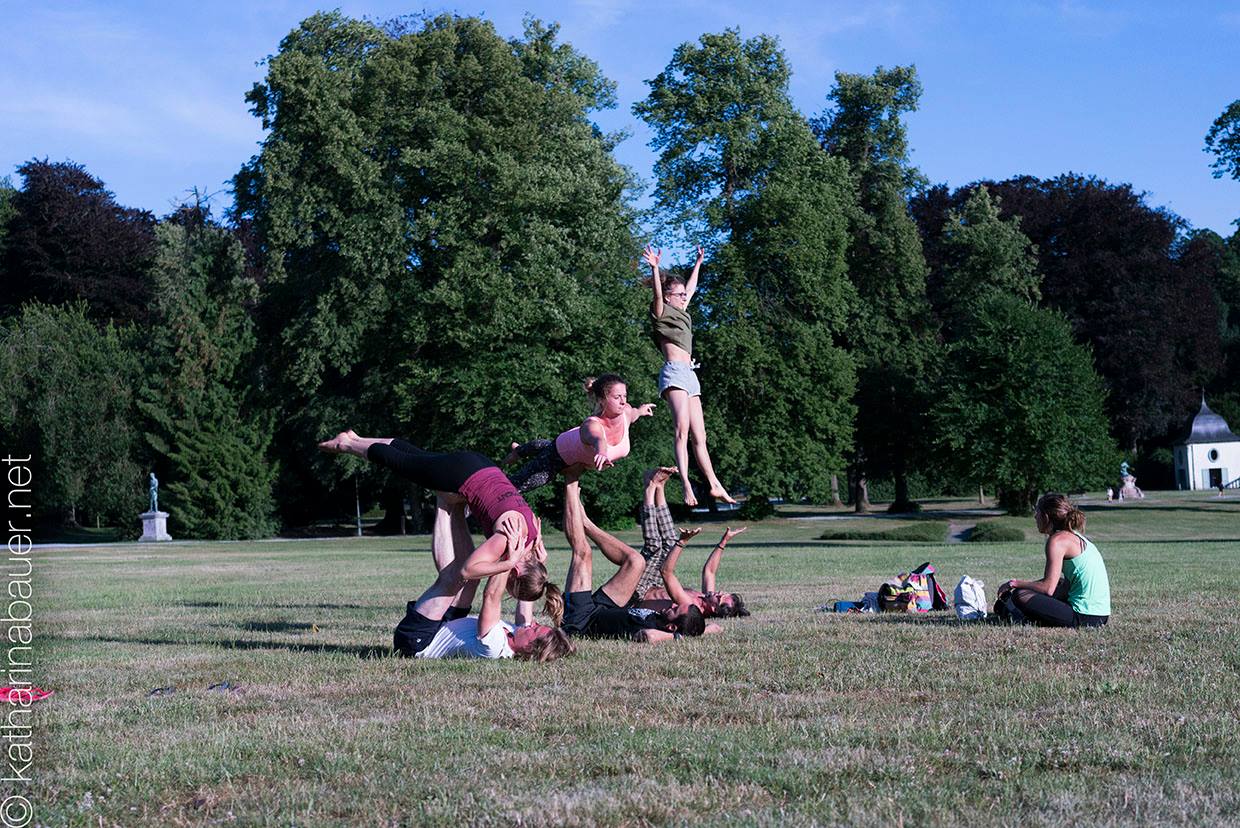 TICKETS for the Acroyoga Summer Festival Belgium
Your ticket to the main festival includes:
– Free access to all workshops
– A free camping
– Free use of shower and toilets
– Vegetarian meals during the festival
– Lots of fun and training!!!
FOOD
Food will be vegetarian. The first meal will be breakfast on Thursday the 29th of July.
CAMPING
The campsite is in the park, a few minutes walk to the main activities of the festival. Please bring your own tent and camping equipment.  You can arrive and put your tent Wednesday the 28th of July from 4 pm.
PRICING
For the dynamic of the festival, we only sell tickets for the whole 4 days of the festival. You are welcome to arrive 1 day early to camp and chill out and jam with your friends. The camping will open on the 28th of July at 4 pm.
RESERVATION TICKET: due to the current COVID situation, we only sell a reservation ticket now (50 euros), so you have your spot booked. Then we will confirm the festival end of June and you can pay for the rest of your ticket. = 50 €
If we cancel the festival, you will get a total refund. We will follow the official guidelines for the COVID-19 situation.
FULL FESTIVAL with EARLY BIRD PRICE ticket => 260 € (20 spots) The first 20 participants, who register and pay te reservation will have the early bird spots.
FULL FESTIVAL with normal price => 300 € (around 80 spots)
TEACHING AT THE FESTIVAL: 
– Teaching request: If you are a teacher and teach acroyoga, acrobatic, yoga or other… and you have a minimum of 2 years of teaching experience, and you would like to teach a workshop(s) during the festival please register and ask for teaching. we can give you 40 euros reduction for each workshop you each.  Please describe your experience in the comments of your registration. You have to register first. We cannot promise anything. We will contact you.
For ALL PARTICIPANTS:
To make the festival happens smoothly and with good vibes, we will need help and support from all of you.
It will take around 1 hour each, with practical tasks, like helping the cook, washing dishes, carry the mats for training, cleaning etc. You will receive an email with this and you can choose your duty task. . Thank you!!
CANCELLATION POLICY
No refund for the early bird tickets
For the other tickets:
Up to 6 weeks before – full refund minus 50€ processing fee
Up to 2 weeks before 50% refund minus 50€ processing fee
we will follow the official guidelines due to COVID-19. We might have to ask all participants to have a negative test before entering the festival or being vaccinated. If you get COVID-19 and get a positive test, we will help to resell your ticket or you can get a 50% refund minus the 50 euros processing fee.
You are welcome to give your space to someone else but please let us know.
CANCELLATION DUE TO THE COVID-19
You will have the opportunity to get the ticket refunded if the event is cancelled in its entirety.
There will be a small booking fee from Stripe, that is our booking system. The fee is 1,4 % + 25 cents for European cards and 2.9% + 25 cents for non-European cards.