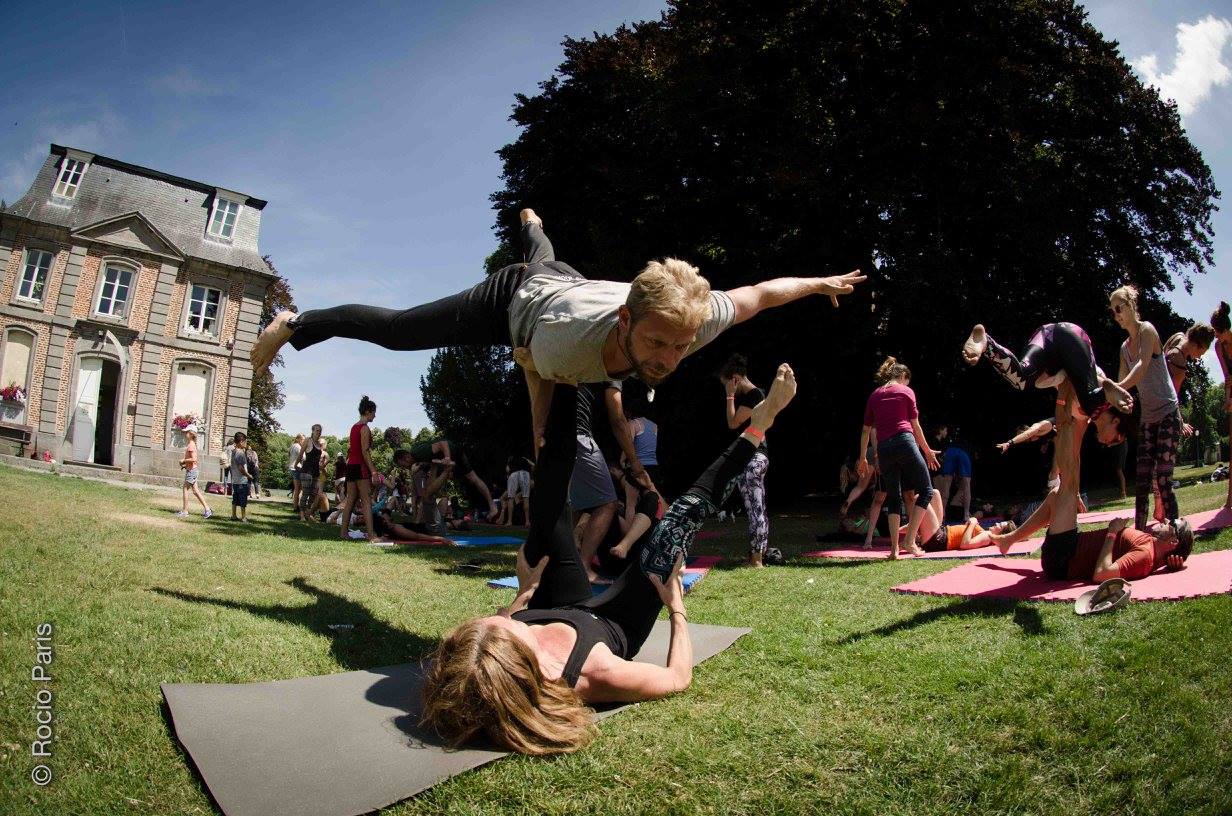 AcroYoga Summer Festival Belgium
This festival is a magical event with AcroYoga, standing acrobatics, handstand training, yoga, creativity, playtime and massage. Once again we will be in a beautiful location, with a huge training hall surrounded by a calm park to rest and have meals together.
Each day, workshops will be offered with a crew of international teachers. We will have a wide variety of workshops for all levels. Evenings, we will celebrate with music, performances, dancing, space to jam, and massage/bodywork.
AcroYoga Summer Festival Belgium was created in 2017 by Tatjana t'Felt, Marie Marecaux and Grégory Thirion with the intention of creating a large festival, which would strengthen and gather the community in Belgium.
Today the festival is organised by Grégory Thirion and Veronica Cruz.
This festival is a place for people to connect, move, eat, play and get inspired. Our vision is to connect people.
This festival is also created in collaboration with a lot of help from friends, all the teachers and karma yogis. We are very grateful for this support.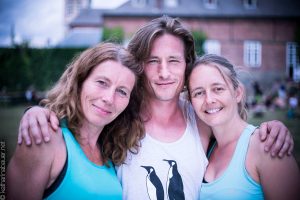 AcroYoga
AcroYoga is a playful blend of partner yoga and acrobalance. AcroYoga is a dynamic training that gives you strength, balance and flexibility. AcroYoga combines the wisdom of yoga, the dynamic power of acrobatics, and the loving kindness of healing arts. These 3 elements form the basis of a practice that cultivates trust, playfulness, and community.
The festival celebrates all 3 main elements in AcroYoga :
Acrobatic Practices that cultivate trust, empowerment and joy.
Massage and the healing Arts Practices that cultivate listening, loving and letting go.
Yoga Practices that cultivate breathe awareness, life balance and connection.
The team
Tatjana t'Felt – Denmark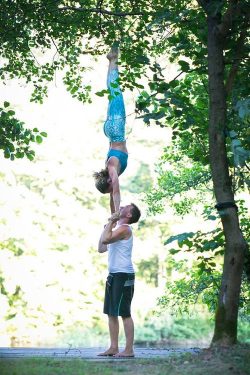 Tatjana t'Felt – Denmark
Tatjana has been teaching yoga, movements and dance for many years. She is a certified AcroYoga teacher. She lived 4 years in Brussels and was one of the core teachers in the growing Belgium Community. She is a part of the teacher team for the Family AcroYoga Teacher Training in Europe. She now lives in Copenhagen. She teaches international workshops and she has regulars classes in Copenhagen.
Gregory Thirion – Belgium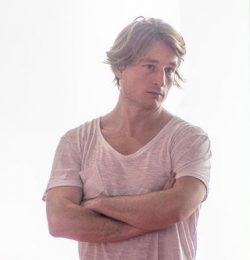 Gregory Thirion – Belgium
Previously athlete (6 years: javelin, decathlon) and swimmer (10 years), and in between Wing Chun and Goshin Jutsu practice, he discovered AcroYoga in 2015 taken by a friend. It was his first contact with the "AcroWorld" where he met his main teacher Tatjana. Month after month he explored a new way of thinking, of communicating with people and his own body while discovering the growing community in Brussels and the different disciplines which gravitate around AcroYoga. He's now teaching regular classes in Brussels at Emergence XL. Gregory founded the summer festival together with his friends Tatjana and Marie.